round 100 uniquely-themed street food trucks and vendors are returning to the city for the 2017 Abu Dhabi Food Festival.
Foodies across city can prepare their appetites for authentic street food with not one, but 10 street food events, held from December 7 to 23.
Featuring a star-studded round-up of everyone's favourite street food eats, delivered by more than 100 food trucks and vendors in the region, the event also offers a variety of family-friendly music and attractions – in a celebration of extraordinary food and exceptional talent!
That's not all, we have 4 tickets to give away to 4 lucky winners! See below for how to enter our fantastic competition.
ABOUT THE FOOD FESTIVAL
The 10 foodie events, organsied by Truckers, promises to satisfy all cravings while transporting guests from the back streets of Brooklyn to the beaches of the Caribbean, without leaving the city.
Alexandre Teodoresco, Founder of Truckers, emphasised how the festival is a great platform to showcase local talent.
He said: "We are excited to be bringing well-curated food events to Abu Dhabi, many are new concepts, launching for the first time in the UAE. There is a growing street culture and it is important to support these independent food traders and artists, by giving them a popular platform, such as the Abu Dhabi Food Festival, to showcase their talents. We look forward to working with the Department of Culture and Tourism and other festival stakeholders on making these events a hit among the Abu Dhabi community."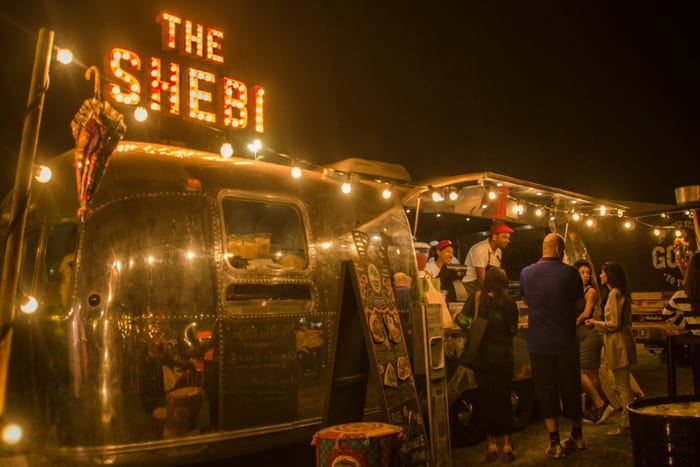 To kick off, Truckers Carnival will take place between December 7 and 23, opposite Marina Mall, and will be the perfect mix between a food truck festival and a fun fair. All the foodies stopping by will be served by 10 food trucks, which will change on a weekly basis. There will also be 10 of the most famous skill games, which would have been found at a traveling fair back in the 1960s. To finish off the fun day, the world-famous Luminarium giant inflatable installation will complete its Middle East tour at the Truckers Carnival. Free entry
Meanwhile, Beach Feast, which will take place on Yas Beach, also on December 8 and 9, will feature 10 food vendors, with menus inspired by different Caribbean islands. Jerk Chicken and Banana plantain from Jamaica, Coucou and Flying fish from Barbados, Pepperpot from Guyana are just a few of the national dishes, visitors will sample while at the Beach Feast. For the less adventurous dwellers, plenty of street food classics will be there to enjoy on the sand. The artist line-up will include some of the best local reggae bands to entertain the Beach Feast visitors over the weekend. Entry at 2pm to 5pm – AED 30. Entry at 6pm and afterwards – AED 100
Street Fest will be the largest public event at the Festival and will take place over three weekends, December 8 and 9 in Al Ain, and December 14 – 16 and 21 – 23 in Abu Dhabi, so visitors will discover some of the best local and international street food vendors with more than 40 food trucks, trailers, carts and pop-ups, bringing together street art and street food for the young and old to enjoy. Al Ain Zoo – Ticket Price: AED 40, including entry to the Zoo. Abu Dhabi Corniche – Ticket Price: AED 30
Street Food Market, will take place on December 14 and 15. The adults-only event is a fusion of a street food festival and an urban party. Visitors will experience some of the best Street Food live from 15 vendors, savoured while the DJ tunes blast late into the night, along with some of the best local musical talent. Ticket Price: AED 50
Truckers Park will be at Madinat Zayed in Abu Dhabi on December 15 and 16. Visitors will be able to discover the new and upcoming food trucks of the UAE. The Truckers vibe would not be complete without the musical atmosphere, created by some of the best local bands performing live and DJs. Kids activities and the Funky Souk will help make it an event for the whole family to enjoy. Ticket Price: AED 20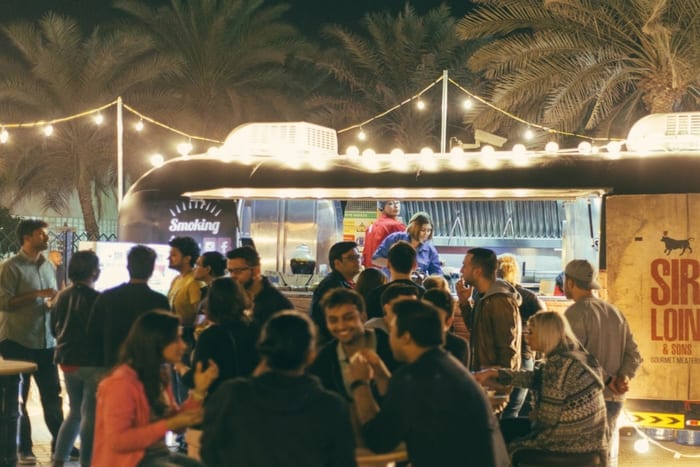 The Big Piknik is a new food event concept which will be launched for the first time during the Abu Dhabi Food Festival 2017; A picnic made by giants, huge food items will make up the décor and give the impression that the giants could come back any moment! This fun family picnic will be held on December 22 and 23 and will also promote healthy living. Free entry
Set within Manarat Al Saadiyat, Delicious Cinema will take visitors through a culinary and cinematographic journey composed of five movies and five meals. Another first-time event to be launched during the Abu Dhabi Food Festival, this dinner soirée will take place on December 22 and 23. Ticket Price: AED 190
Truckers Exit will be the perfect spot to grab a quick street food meal, while on the go. This rough and tough, no frill set up on the road to Dubai, will see a weekly rotation of some of the best food trucks in the UAE. The event will run from December 10-13 and 17–20. Free entry
To top it all off, Top Secret Long Table will be the one event which all foodies in the UAE would want to attend. It will take place on the December 8, at an undisclosed location in Abu Dhabi, which has never been used before as a venue for an event. This breathtaking setting will undoubtedly go around the world as the defining moment for the Abu Dhabi Food Festival 2017. Only invitees and ticket holders will be notified of the location, a few hours before the event kicks off. Ticket Price: AED 495
For more information, please visit http://www.truckers.ae or follow the event on Facebook and Instagram.
OUR YALLA COMPETITION!
We've got 4 tickets to give away for this year's Abu Dhabi Food Festival. If you'd like to win, simply answer the following question:
Where is the Delicious Cinema Event taking place?
Email your answers to win@yallauae.ae by December 5.
Terms and conditions apply
One entry per person
Tickets cannot be redeemed for cash
Single entry tickets only to the specified event
Tickets cannot be used for other Truckers ADFF2017 events